Find out what other advocates in Medina County are up to in our community. 
Ryan, Adina, Jeremy, Erin and Ashley
July 2022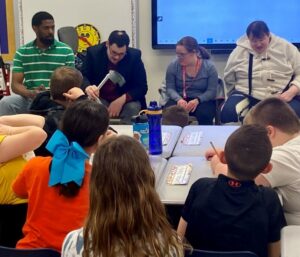 Throughout the month of May, advocates Ryan, Adina, Jeremy, Erin and Ashley spent some time with third grade students at Buckeye Elementary School! They each had the opportunity to share their personal stories, struggles and successes, and discussed the importance of being kind and including everyone. Students were then given time to ask the advocates questions.
Carrie's Night Out
May 2022

Carrie recently attended the Down Syndrome Association of Northeast Ohio's Gala Event! She enjoyed the entire process of this event that included meetings for planning, picking out patterns and fabric, fittings and of course, the Gala itself, which draws attention to the need for inclusive fashion.
Rebecca
March 2022

Recently, Rebecca spent a a few Sunday afternoons showing off her creative side! Medina Show Biz Company reached out for volunteers to create the set for the upcoming production of Gilligan's Island. Rebecca jumped in immediately and volunteered her time to work alongside community members of all ages. Rebecca has had a love for art for as long as she can remember. Her talent is endless.
Logan
February 2022

Logan is getting prepared to teach a Project Stir Statewide Training to individuals with I/DD in Stark County on March 29 through March 31, 2022. He has been teaching Project Stir for 6 years now. Logan is very excited to make new friends while enhancing their advocacy skills. Recently, Logan also became a member of the Coalition for Ohio Leaders (COOL). Good luck and way to go, Logan!
For more information on Project Stir or COOL please click the button below.
Lena

February 2022

Lena hosted her very first dinner party! She picked the date, made the guest list and planned the meal. Lena prepared a delicious homemade pizza and healthy salad, which was enjoyed by all. It was a great evening of amazing food and wonderful friendships!