About Community Employment
The MCBDD Community Employment services help people with developmental disabilities fulfill their desire to work in the community. We offer a variety of services for both employers and employees, including: evaluations/assessments, job seeking skills, job development/ placement, job coaching, follow along services, and on-the-job training.
The Community Employment program is designed to give an individual the help they need in order to work as independently as possible in the community. Our staff will assist individuals with all aspects of securing a job as well as the help needed to maintain successful employment.
Job Seeking Skills Training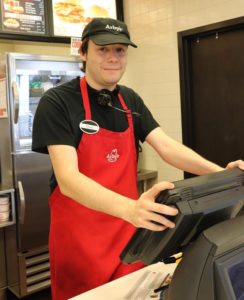 We assist individuals with finding a job by improving the following skills:
exploring careers
contacting possible employers
preparing resumes
completing job applications
interviewing techniques
managing financial matters
interpersonal communication
using time management skills
Job Coaching and On-The-Job Training
A job coach's first concern is making sure the individual succeeds at work. They go to work alongside the individual and help them learn any new tasks and responsibilities. Job coaching allows our staff to help not only with job tasks, but also with workplace behavior skills, developing friendships, and tracking progress.
Follow-Along Service
Once the individual has mastered the job, we provide ongoing follow-along services to ensure long-term success. These follow-up visits help both the individual and the employer address any concerns that may arise and also provides peace of mind that the job is done right.
Contact
330-725-7751 option 3
communityinfo@mcbdd.org
Opportunities for Ohioans with Disabilities (OOD) Website
Employers
Are you an employer looking for information on hiring a person with disabilities and what benefits it can provide? No-cost help is available to businesses to match their needs with workers who have the right skills.
Hiring People with Disabilities
Employment Spotlights
Learn more about the advocates who make a difference in our community
Spotlight on Megan – October 2022
Spotlight on Emily – July 2022
Spotlight on Jennifer & Shawn – May 2022
Spotlight on Rocky – March 2022
Spotlight on Matt  – February 2022