See how advocates are getting to work in Medina County.
Emily – Production and Assembly
July 2022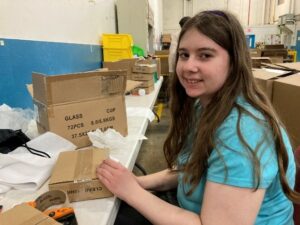 In September of 2020, Emily started working at AI Root Candle Co. with a job coach. Since then, she has been trained on various machines and has settled into the tea-light area. While there, she puts tea-lights in votive cups, cleans them off, packages them and completes a master box. Once orders are complete, she packs them up and puts them on the correct pallet. She does her job very well, is flexible, and helps out in other areas on different machines whenever needed. For example, during the pandemic, Emily took on the role of temperature checker and would assist in taking everyone's temperatures as they arrived to work. After working there just under a year, Emily increased her hours and was hired in on AI Root's payroll and has been successfully employed there for almost 2 years now.
Emily has grown in her confidence throughout her time at AI Root. She has also grown in her socialization skills; she talks to others more and often requests songs to be played in the nearby work area. Her area supervisor, Sue, always has nice things to say about Emily and has stated that her work is done very well and it is always appreciated that she is willing to help out in other areas. While employed at AI Root, Emily has gone through the process of job coaching, weekly retention and then monthly follow along services.  Emily has been doing so well with her work performance that she no longer requires follow along services!
As for future plans, Emily stated that she is happy with the position she currently holds and does not want to pursue anything further at this time.
Jennifer and Shawn – Grocery Store
May 2022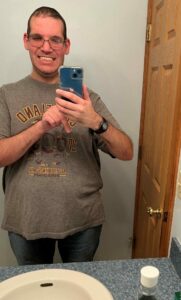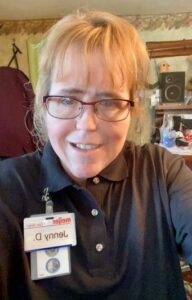 Meijer, a grocery store chain, had its grand opening in Brunswick.  Meijer has hired an additional 100 people at its newest location including advocates Jennifer D. and Shawn G.! Congratulations, Jennifer and Shawn, on your new employment!
Rocky  – Groundskeeper
March 2022
Thirty seasons ago, Rocky started working as a Groundskeeper at Hinckley Hills Golf Course, which is in the northeast part of Medina County. Throughout his many years as a Groundskeeper, Rocky has worked in a number of weather conditions, from beautiful spring days to damp, rainy days, and his job responsibilities change as quickly as the weather. One job that never changes for Rocky, though, is grass cutting and maintenance. Rocky prioritizes his job duties and gets them done with little supervision. To say the least, he is a dedicated employee who puts pride in all his work. "My goal is to continue working as long as I am able," Rocky said. Rocky's supervisor stated, "The opportunity to work with Rocky has been a pleasure. Every time the two of us have met, he always has a smile on his face and a positive attitude. Rocky has a good personality and is a kind, genuine person. Rocky always has nice things to say about the owner of the golf course and how he enjoys working here, and he tells me that he's going to keep working here as long as he's healthy. I wish him the best for many more years."
Matt  – Records Clerk
February 2022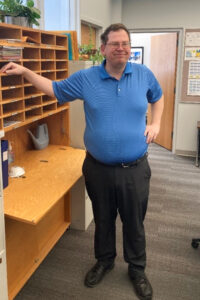 Matt is employed by Windfall Industries, and is currently assigned to the Confidential Records Department at the Medina County Board of Developmental Disabilities. When Matt started working at the MCBDD in May of 2008, he started in the Business Office. He has worked hard to make in into the Confidential Records Department, and his job now consists of scanning confidential files into the computer system and managing the files of past and present individuals served by the County Board. Shannon Lees, Matt's supervisor, stated, "Matt pays great attention to detail and loves to streamline processes to make his and his coworker's jobs quicker and easier." Mary, Matt's coworker, said "Matt always offers to help his coworkers when needed and has a great sense of humor. He always has a positive attitude towards all of his work tasks." "I enjoy my job and I'm close to my coworkers, Mary, Tammy S. and Tammy V.. This is like my second home because I have been here for so many years," Matt said. "It is a friendly and stable working environment." In the future, Matt said that he would love to find a job that has to do with computer engineering or graphic design. He also loves to study math in his free time.