Here are great opportunities for advocates to volunteer and give back to our community.
Volunteering means spending some of your free time helping others. Volunteering gives you a chance to meet a range of different people from totally different backgrounds and make new friends. Volunteering also gives you a chance to share your time and/or talents for charitable, educational, or other worthwhile activities, especially in your community.
Why Volunteer:
You Will Make a Difference
You Will Meet New People
You Will Learn New Skills
You Will Be a Part of Your Community
You Will Have Fun!!!
Feeding Medina County
July 2022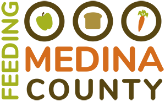 Feeding Medina County's mission is to educate, engage, and lead our community in creating an environment where no one goes hungry. We nourish our community with essential programs that put food on the table for children, families, and seniors who are at risk of hunger.
It takes between 30-50 volunteers a week to make programs run smoothly.  Ways you can help: Weekenders Packing Program, Staples for seniors Packing, Monthly Food Distributions, FMC Community Garden
For additional volunteer opportunities with Feeding Medina County, follow the button below.
Medina Personal Care Pantry
May 2022
The Medina Personal Care Pantry distributes needed personal care, laundry, and cleaning items to Medina County residents in need. Recently, MCBDD Self Advocates joined together to collect items and package personal care bags for the Care Pantry! Advocates were able to put together 150 bags, and plan to distribute them at Living Hope Church on May 7, 2022.
Are you interested in helping pass out bags? If so, please contact Michelle Fortney (330) 725-7751 ext. 232.
We would like to send a huge thank you to our friends at Discount Drug Mart and State Farm Insurance for their generous donations!
For additional volunteer opportunities with the Medina Personal Care Pantry, follow the button below.
Kitten Krazy
March 2022
Kitten Krazy has many opportunities for volunteers to help with their mission of providing loving homes to needy cats in our local communities. Volunteering for one or two hours per week can make a huge difference, but you know what the best part is? Staying after your shift to pet the kitties!
There are many ways to help, and everyone is appreciated. Kitten Krazy is always looking for people who would like to serve in the following areas: Adoption counselor, Arts/crafts, Cleaning – immediate need daily: 10:00 a.m. – noon, & 4:00 p.m. – 5:00 p.m., Foster homes, Fundraising, Handy work, Laundry and/or dishes, Office/phones, Photography, Flea Market help (pricing, register, sorting, etc.)