A self-employed, or independent, provider is a person who provides services to people with developmental disabilities. They are not employees of the State of Ohio or the Ohio Department of Developmental Disabilities (DODD) and they cannot employ someone else to provide services on their behalf.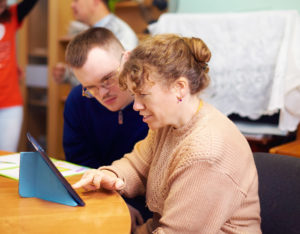 DODD certifies independent providers of services. An independent provider is prohibited from providing any service until certification is obtained from DODD.
Requirements for Certification
The independent provider must:
Be at least 18 years of age.
Have a valid social security number.
Have the ability to read, write, and understand English.
Have a high school diploma or GED certificate.
Tips for Completing Your Application:
A birth certificate is a required document and will need to be submitted.
It is recommended that applicants first gather all documents (except the BCII background check) prior to completing the application.
Once your fee has been paid, you will have 30 days to submit all of your required documentation.
Steps for Certification
STEP 1: Complete DODD's Initial Overview (Orientation for Independent Providers) online training.
This training for independent providers is required for certification.
Initial Overview Online Training
STEP 2: Gather required documents and non-refundable application fee.
The non-refundable application fee is $125. A First Aid certification, CPR certification, and eight hours of Direct Service Provider Training for Initial Certification are required in addition to some other documents.
*Required documents may vary based on the service certifications requested.
STEP 3: Submit application, supporting documentation, and non-refundable application fee.
After submitting the application fee, you have 30 days to submit all of the required documentation. You will receive a user name and password to use Provider Services Management (PSM) to start a provider application.
Independent Provider Directory Tool
The MCBDD has an independent provider directory tool that is designed to help individuals with developmental disabilities and families search for providers. This tool lists independent providers in the county (agency providers are listed through Provider Guide Plus). All independent providers will be listed in the directory unless they opt out. To opt out, please contact Courtney Jordan at the number or email listed below.
Contact
Courtney Jordan
MCBDD Provider Relations Specialist
330-725-7751 ext. 130
courtneyj@mcbdd.org
DODD Provider Certification
1-800-617-6733 option 3