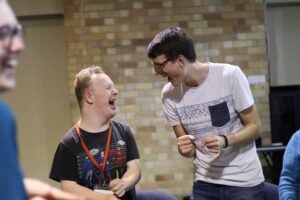 The MCBDD is happy to offer opportunities for providers to learn more about meeting the behavioral needs of those they serve. Here are some resources to help you continue to intentionally contribute to a positive culture for the people you serve.
Virtual Support Strategies Forum
Need help troubleshooting positive solutions for challenging situations? Are you scratching your head or pondering how to interact more effectively with those you serve.
Then join Jerry Thomas, MCBDD Positive Supports Coordinator, for virtual weekly drop-in sessions aimed at helping providers, frontline supervisors, or anyone caring for those with developmental disabilities, discover ways to promote positive solutions for behavior situations.
Ongoing Sessions:
Mondays from 1:00-2:00 pm
Thursdays from 9:00 -10:00 am
Support Toolbox Videos Series
Jerry Thomas, MCBDD Positive Supports Coordinator, has created a series of videos to help caregivers for people with developmental disabilities make small strides in their daily lives. The videos give providers, parents, or guardians pointers on how to handle certain situations.
Topics include:
Offering choices
Problem solving
Planned ignoring
With more being added regularly.