Fidget Quilts Donated to MCBDD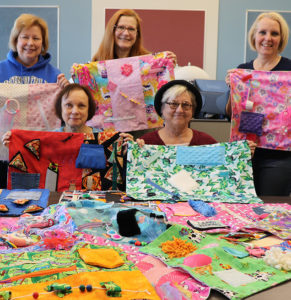 On February 21, four members of the Fidget Quilt Circle of LifeSpring Community Church delivered eighteen fidget quilts to the Medina County Board of DD Children's Services Department. The quilts will be given to children who are involved in the MCBDD's Early Intervention, Windfall Preschool and Windfall School programs.
Fidget quilts are blankets that are typically 18" x 20" and fit easily into the lap of a child or adult. They contain interactive materials such as zippers, Velcro flaps, ribbons, buttons, snaps, and small toys along with different textures like flannel and faux fur sewn directly into the fabric. These items provide many activities and hours of important and soothing interaction for people with and without disabilities.
Fidget quilts were originally developed to help sooth seniors with Alzheimer's disease and other forms of dementia, but have been found to benefit people with autism spectrum disorders, ADD, and other developmental disabilities as well. They offer a safe and hands-on source of comfort to replace other behaviors such as tugging at clothing and rubbing hands together. The quilts allow their owners to occupy their hands during times of stress and frustration or when they are restless or anxious. Studies have shown that fidgeting can calm and reduce anxiety.
Upon receiving the donation, MCBDD Children's Services Director Dr. Kaye Stanley Bryson said, "We are so amazed at the generosity of these women. We cannot thank them enough for such a thoughtful and generous contribution to the children and families who receive our services."